CAMPING IS COMING SOON!
ONSITE CAMPING OPENS THURSDAY AT HIGH NOON AND CLOSES ON SUNDAY AT HIGH NOON.
EACH CAMPING ATTENDEE MUST HAVE THEIR OWN FESTIVAL PASS FOR ENTRANCE.
ALL CAMPING ATTENDEES MUST BE 18 YEARS OF AGE OR OLDER & HAVE A VALID I.D. OR BE ACCOMPANIED BY PARENT OR LEGAL GUARDIAN. SORRY, NO EXCEPTIONS.
DO NOT LEAVE VALUABLES IN YOUR TENT. WE WILL HAVE ONSITE SECURITY, BUT THAT'S NO GUARANTEE.
PARK AT YOUR OWN RISK.
FEEL FREE TO BRING YOUR OWN FOOD AND BEVERAGES INTO ONSITE CAMPING.
TENTS TO MOTORHOMES ARE WELCOME AND ARE GENERALLY IN SEPARATE AREAS.
PETS MUST BE LEASHED AND UNDER CONTROL AT ALL TIMES.
CAMPERS ARE EXPECTED TO BEHAVE IN A MANNER THAT IS COURTEOUS TO OTHER CAMPERS. NOISE CURFEW AT 11:30PM. VIOLATION MAY RESULT IN REMOVAL FROM FESTIVAL. YES, THAT INCLUDES NO RE-ENTRY.
ALL CAMPING ATTENDEES ARE SUBJECT TO SEARCH UPON ENTRY.
PLEASE RESPECT OUR NEIGHBORS, LOCAL RESIDENTS AND THE LOCAL ENVIRONMENT.
MORE CAMPING INFO COMING SOON!
---
NO SHOWERS AVAILABLE NO OPEN FLAMES NO TIKI TORCHES / FIREWORKS / ANY TYPES OF EXPLOSIVES / AMMUNITION NO METAL TENT STAKES NO GLASS CONTAINERS, WEAPONS, DRUG PARAPHERNALIA OR DRUGS ALLOWED CAMPSITES ARE NOT POWERED *PAPA JOE'S BANJOBQUE MUSIC FESTIVAL IS NOT RESPONSIBLE OR LIABLE FOR ANYTHING PERTAINING TO THIS CAMP SITE.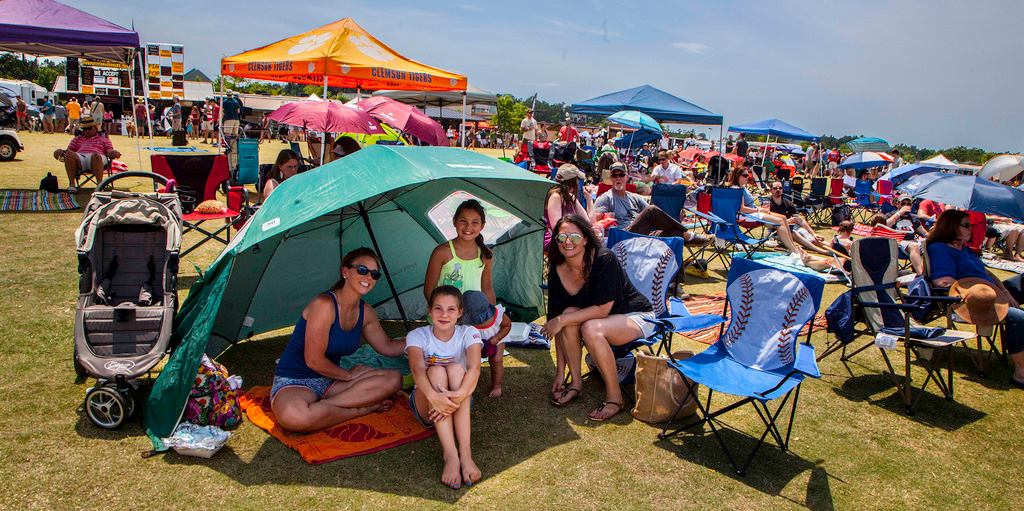 OTHER LOCAL CAMPING SITES
*Book early - these sites are very popular during Memorial Day weekend